EU. CH. Magic Thai Goblin's Lo Zaffriro's Pimpinella named as "Pimpa"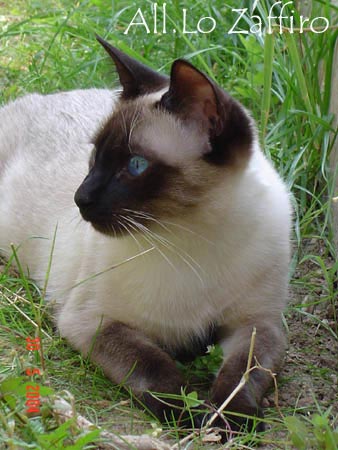 Colour : Chocolate point
Title : International Champion
Date of birth : 30.06.2003
Parents :
Father : W. CH. Magic Thai Goblin's Woody Woodpacker
Mother : W. CH. Magic Thai Gobiln's Aramè Azur
Pimpa is the most athletical female thai-cat I have , she has a muscolar and tonic phisique , like a real athlete!
Everyday she makes training ihn her specialities : Hurdle-race and Long distance race . So my home becomes an athletic stadium , because Pimpa involves Vicky and Noemi (when she's not singing!) in her training ; they start with long distance race and after , if you are on their course , hurdle-race !
Pimpa is a perfectionist , she tries and tries again until she decides her exercize is perfect . Naturally she she loves her mid-night training ! When she has finished , tranquillity returns and at last I can sleep !
She reduces her training only when there are litters at home ,
so "Pimpa the athlete" becomes "Aunt Pimpa" ,
a marvellous baby-sitter!