GR. EU. CH. Lo Zaffiro's Flò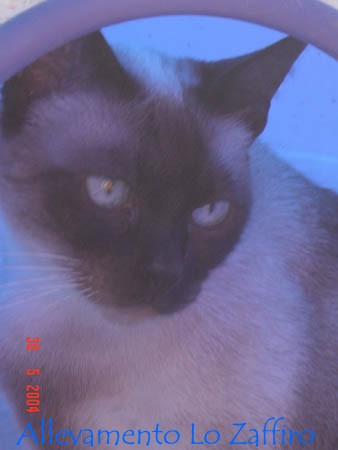 Colour: seal point
Title: Great European Champion
Date of birth: 20.03.199
Parents:
Father : Great International Champion Lo Zaffiro's Oliver
Mother: World Champion Lo Zaffiro's Lisa
Flo' is the daugther of Lisa and Oliver , my founders of lineage ,
the only female of a five kitten's litter , so she learned how to get respect .
Flò and Lisa live together from her birth , 6 years , she loves her momcat ; she's a little bit timid with human persons ,
but she's ok with other cats and with dogs .
Flò is a cleaver cat , she knows how to open doors ,
windows and wardrobes , as she switchs on the lights!
How she learned , I don't know , but I see my wardrobes opened
and the clothes all over the house…
How I know she made it ?
She loves to sleep in my personal wardrobe and she trie to open it at my presence…
Flò and others thais's room is 30 mq , with many toys and a big tree I've bought in Germany , but isn't enough , I mean…
Flò is quiet only when she had kittens so thousand thoughts runs trough her mind. Also Flò , like the others Queens I have , is a wonderful mother , her kittens have everything they need!