W. CH. Lo Zaffiro's Annushka Mecong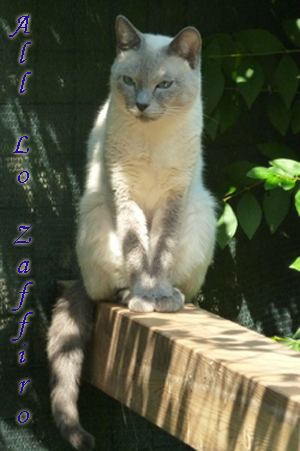 Colour: blue point
Title: World Champion
Date of birth: 12.08.2000
Parents:
Father : GR. CH. INT. Morengo Constant Guan – Tzhi
Mother: CH. Vesta
Annushka comes from a very distant place, Moscow , so she made a log journey lo live with me!
Imet her bredeer in Germany during a feline exposition , so I waited so long , just one year , to have Annushka!
But she gave to me a lot of satisfactions ,she became my second world champion , after Lisa .
When you look at Annushka , you soon understand she's a female cat , because her kindness and her sweet voice , never too loud .
Who comes to me searching for a seal point kitten , looking at Annushka decides to adopt a blue point too , it's easy to fall in love with Annushka and silver/blue points with her angel's blue eyes .
Her sweetness and beauty are typical of Annushka , so she transmit her kittens these characteristic .